This Saturday at
#the77executed #77executed #CumaanNaGaedheal
Quote Tweet

N.G.A.
@NationalGraves
Join with the National Graves Association as we remember the 77 brave men executed by the Freestate during the civil war. Main speaker: Tommy McKearney Republican plot, Glasnevin cemetery, Dublin Saturday 19th November, 12 noon. Further info: 087 2282033 Please share.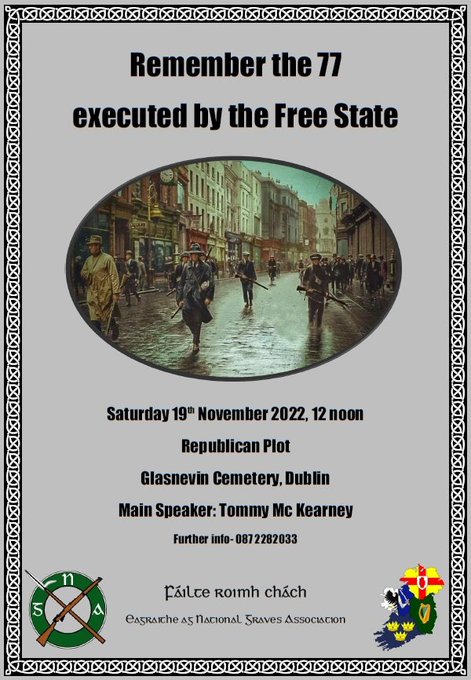 ==========================================================
Erskine Childers was executed on the 24th November 1922, 100 year anniversary.
My cousin, Sir James Comyn, and nephew of my grandfather, Michael Comyn KC, wrote a chapter in his book Their Friends at Court by James Comyn published 1973. So many times I recall being told how difficult it was for my grandfather to accept that Erskine Childers was executed while on appeal.
In tribute to the Childers family. I am on tweet with Erskine Childers great grandson.
XVIII: THE DEFENCE OF ERSKINE CHILDERS
ERSKINE CHILDERS had as much right to call himself Irish as English because his mother was Irish and he had been brought up in her family home in Co. Wicklow. Certainly he was Irish by choice and from an early age was an enthusiast for Home Rule. He had been prominent in the activities of 1914-21 and in 1914 had taken part in the gun-running at Howth which had so caught the public imagination.
He was a cultured man of literary bent (author of the well-known novel, the Riddle of the Sands) and had been of considerable service to the Republicans in propagandist and diplomatic affairs. When the Treaty was being negotiated in London he was one of the principal secretaries to the Irish mission. It was his misfortune to engender hostility both from some Englishmen and some Irishmen. Those who held that view regarded him as a renegade Englishman and they were unfair to him. He believed in what he fought for and fought for what he believed.
When the split came between the pro- and the anti- Treaty factions, with the former becoming the Government and the latter under "Dev" (de Valera) conducting hostilities, Erskine Childers sided with Dev. In the civil war in Cork in 1922 he operated a printing press to turn out anti-Treaty propaganda. Then in October, 1922, he was summoned to return to Dublin to be secretary of Dev's shadow "Government". Of necessity, his journey had to be gradual and furtive. He carried with him his inevitable typewriter and a small colt automatic revolver whihc had once been given to him by Michael Collins.
He reached County Wicklow and stayed at the house of his cousin, Robert Barton (one of the signatories of the Treaty) at Annamore. There he was captured by the forces of the Free State Government.
The news made headlines everywhere and Winston Churchill note with satisfaction, saying that he was mischief-making renegade. "Such as he is may all who hate us be". The charge against him was illegal possession of arms – the Colt revolver.
Erskine Childers was to stand trial before a military court on November 17, 1922. From Portobello Barracks in Dublin he sent for Michael Comyn to defend him. They had long been friends and he had often hidden in Michael's house in Leeson Park. A sister of my uncle, who lived there said, after meeting him for the first time,"It is a shame to have that delicate and cultured man mixed up in our Irish quarrels. He is no more fitted for it than a child in a blizzard".
When sent for by Childers, Michael was in fact attending counsel in an inquest near Dublin (it was an inquest and Red Cow Quarry, where some young men who had been caught setting up an illegal printing press were taken out and shot) and a military car with escort cars came to collect him. He noted on the journey back to Dublin that the car he was in was so placed that it would come under fire in case there was an ambush. I continue the story in his own words:
Childers in his cell was perfectly calm, drinking tea from a mug. I knew how much he loved tea so I asked for a mug of tea for myself which I then gave to Childers. "You know, Comyn," he said, "there is no defence in fact. I had the gun." "That may be," I replied, "but you are too famous a figure to be condemned without due form and solemnity." It was my rule in those awful times and awful circumstances never to betray any softness or sympathy: it would have been unkind. He had some messages for Mrs. Childers, which I brought to her. She also was calm and told me that they had considered and discussed the probable course of events and they were prepared. At his trial, which was in camera, Childers was, as we all anticipated, convicted. Then with Paddy Lynch (later Attorney-General) we went to the High Court, presided over by Master of the Rolls, Sir Charles O'Connor, and we conducted a spirited fight based purely on technical grounds. It failed and we appealed. Before the appeal was heard the terrible news came – in an announcement from London – that Childers had been shot at dawn on November 24, at Beggar's Bush Barracks. It appears that measures to rescue him wre known to the Free State authorities and thus forestalled. It was a complete negation of justice, the worst I have ever known, to execute a man whose case for life or death was actually under argument and awaiting judgment.
The view was echoed by the Judges of the Court of Appeal when the case was mentioned to them a few days later –but much good did it do.